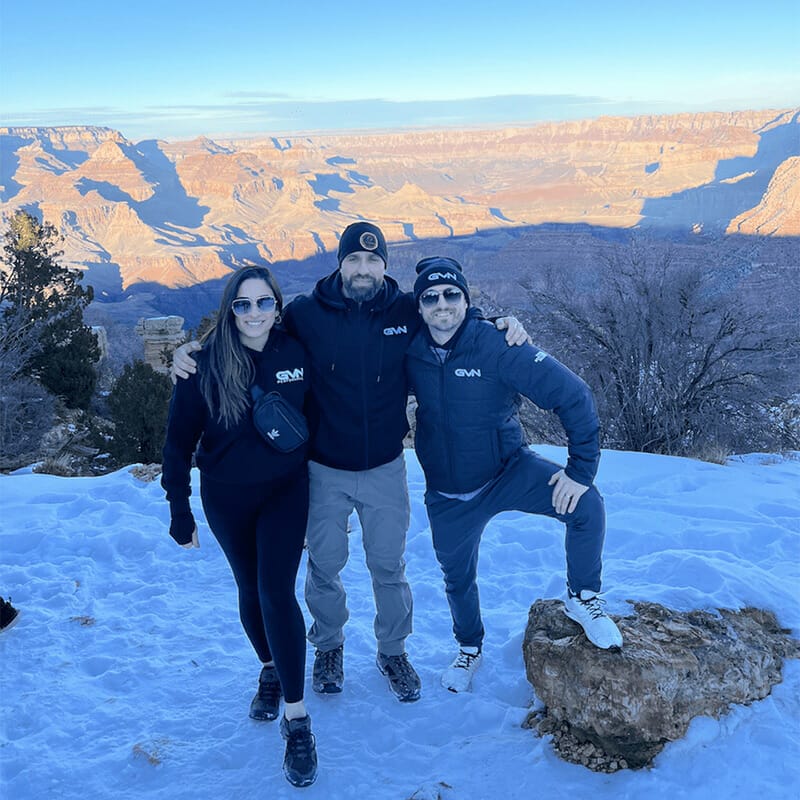 Our founders
Brian Galivan, Gabriela Galivan and Patrick Galivan
Training for hockey started in the old barn in Oak Park, IL- Ridgeland Commons Ice rink. I was 9 years old and my dad took me to public skating. He laced up my old worn out leather rental CCM's, I mean Bobby Hall may have worn these things. He took me to a spot on the board and said "have at it"! And he proceeded to skate off. I watched him glide around the ice while I held on to the boards for dear life. I remember for the first time in my short life I said to myself, "I am going to get good at this". From that day on it was ON! I went to public skating everyday and taught myself to fly. It was such an amazing free feeling and it was the first sport I had ever worked to get good at. At the same time, my little brothers started skating lessons and within a couple years we became a hockey family. 3 boys playing travel hockey and a Mom and Dad that had no idea what we were really getting into." Fast forward, Pat, our golden boy played D1 for WMU and had a 6yr pro career. When Pat turned pro he had a degree in exercise physiology. And I had just switched careers from a union Mason to a personal trainer. Yes, that's right. I spent my early 20's doing 2 things, 1) working my ass off for my union Cement Mason Local 502 and 2) lifting weights and box which led to me training people on the side after work. Recession hit and what better time to make a pivot. Gabby was a key person in making that happen. She asked me one day "If you could do anything, what would you do?" and I said "It would be cool to train hockey players." Where I would have been ok being where I was, she knew before I even knew, that this was what I was meant to do. She was relentless in figuring out ways to make that happen. Every-time I would think. "this is crazy " She would be there to say, "yes so what? Keep going". Her motto for life, "there's always a solution to a problem" and her idea driven, overly positive mind helped us start GVN from its infancy. Pat went pro when I was in my second year as a full time Personal trainer. While my brother was playing in the minors and not making that much money we thought why don't we try to get some guys and train them for the summer. Being a current athlete and a quiet leader my brother was hesitant, not because we weren't capable, but he knew what I, at the time, was blind too… the seriousness of off-season programming. These are their careers, a trainer can make or break a player in the summer, add or take years off a guy's career. This is serious business, but we did it anyway!
Jake Nitsche, a Chicago, IL native, earned his Bachelor of Exercise Science and Nutrition at Roosevelt University in Chicago. Jake is a Certified Strength and Conditioning Specialist through NSCA, a certified mobility specialist through the Functional Anatomy system, ELDOA 1 & 2 Trainer, and a Level 1 USA Weightlifting coach. Jake was also hired by the Chicago Steel of the USHL in 2021 as the Director of Performance and Sport Science where he is in charge of the strength and conditioning program and data analytics of the team throughout the season. Jake also played hockey in the NAHL and NCAA in college throughout his career and has a firm grasp on the mindset it takes to become a high level athlete.
Steven Brykailo joined GVN Performance in 2022 as a performance coach. Prior to joining GVN, Brykailo spent 2 years at Saint Francis academy as a graduate assistant where he oversaw Football developmental group, Women's Lacrosse, Women's Soccer, Men's and Women's Golf. Additionally at SFU, Brykailo oversaw the 2021 and 2022 outdoor Women's Northeast Conference Champion Track and Field program and numerous NCAA regional qualifying athletes. Before SFU, Brykailo spent time at Army West Point, University of Massachusetts, and the University of Central Florida where he was a Sports Performance intern and Sport Science intern for a variety of sports including Football, Hockey, Women's Lacrosse, and Men's Basketball. Brykailo is a 2018 alumnus of the University of Central Florida with a Bachelor of Science in Sport and Exercise Science and holds a Master of Health Science from Saint Francis University.
Tyler Konecki, graduated with a Bachelor's degree in Sports Management from MacMurray College. While attending, he played 3 years of collegiate baseball. Sports and weight lifting have played a major role in his life and was one of the main reasons he became interested in helping others with their fitness journey. Since 2016, Konecki has worked with high school and collegiate coaches to build team workout programs and incorporate physical training sessions into practices. He looks forward to helping individuals reach new goals and maintain a healthy and active lifestyle.
Get started
Click the button below to book a free intro. See if GVN Performance FVIA is right for you.
Fill out the form below to get started
Take the first step towards getting the results that you want
Free Intro